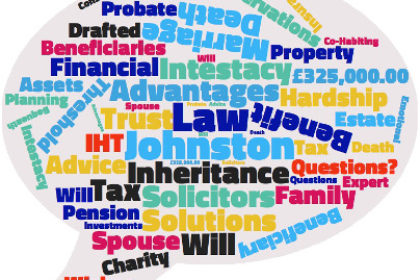 The following is a short summary of the benefits and advantages of making a Will. It is important to ensure that those you wish to benefit on your death actually do benefit by making a Will. By executing a Will you provide certainty as to your intentions and wishes and you also reduce the anxiety for your loved ones following upon your death.
Everyone over the age of 18, and particularly upon the purchase of a property and/or on your marriage should make a Will. If you die without having made a properly executed Will then upon your death your estate passes according to the Rules of Intestacy. This means for a married couple the surviving spouse may not receive all of your estate. For those who are co-habiting, where your partner is not your legal spouse the Rules of Intestacy will not provide financial protection for your partner.
Dying without having made a Will may result in the following consequences:
An Intestacy as already explained
Create financial hardship for your loved ones whom you had intended to benefit upon your death
Some or all of your estate passing to those whom you had never intended to benefit
Leave your family with many questions and uncomfortable reservations as to what you had really intended should happen on your death
By your Will you may leave all of your estate and assets to your surviving spouse without any Inheritance Tax liability.
Also, you may leave up to £325,000.00 (Inheritance Tax threshold) to your proposed beneficiaries without any Inheritance Tax liability. Thereafter the Inheritance Tax liability is 40% on the remainder of your estate.
Therefore a carefully drafted and properly executed Will can enable you to minimise or eliminate this Inheritance Tax liability.
Some of the reasons stated for not making a Will include:
"I don't have anything worth leaving"
When you discuss with your Solicitor the making of a Will, you may be surprised as to the value of your estate, particularly, if you have any Insurance Policy's or have worked and contributed to a Pension Scheme which may provide for a Death in Service benefit and/or a lump sum on death or retirement.
"It's too morbid, I don't want to think about it"
Making your Will could result in your family being left financially secure especially if you have received Inheritance Tax/Estate Planning advices prior to executing your Will.
"It's way too expensive and the other half will be getting it all anyway"
This is simply not correct. Under the Rules of Intestacy your spouse will only benefit financially up to a certain threshold. The cost of making a Will is never expensive, especially having regard to the consequences of dying without a Will having been made. A properly executed Will ensures that your loved ones will benefit both financially and emotionally. This is not expensive compared to the consequences of failing to make a will; it's a small price to pay.
For some time you may have thought of making a will but neglected to do so. A recent Will Aid Survey revealed that many people have not made a Will and were not aware of both the importance and the advantages of making a Will. Less than half of the adult population have made a Will. How tragic and expensive this failure could prove to be upon death.
Act now and consult a solicitor without further delay.