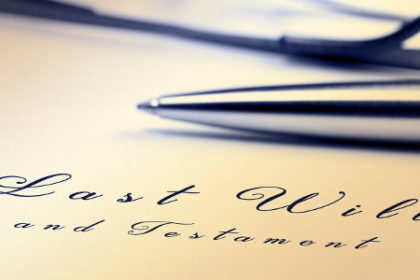 The overwhelming majority of adults in Northern Ireland do not have a will and are not aware of the importance of making a will according to a recent Will Aid survey. Tragically they may not have one at the time of their death.
Whilst most people are aware that they should have a will, it seems to be one of those things that is easily postponed. Then there are those who don't think they need a will as they mistakenly believe they don't have anything to leave or that their family will automatically inherit everything.
Why you should make a will
By making a will you are ensuring that your Estate (money, possessions and property etc.) passes to those whom you want to benefit. Failing to execute a will means that you die Intestate and legislation dictates under the Rules of Intestacy who will benefit from your Estate. This may mean there are beneficiaries of your Estate you did not wish nor would have chosen to benefit. Inevitably, this may also result in court proceedings and possible tax problems.
Excuses for not making a will
Unfortunately there are many excuses – "I don't have anything to leave", "I'm too young I'll sort it out later" or "I don't want to think about it". The reality is that once you reach 18 years of age, have any form of assets such as savings or a house, get married or indeed on your first child's birth you should make your will.
This is the only way you can ensure that those you want to benefit from your Estate actually do.
The reality is that once you reach 18 years of age, have any form of assets such as savings or a house, get married or indeed on your first child's birth you should make your will
Consequences of dying without a will
The problem is that your estate passes under the Rules of Intestacy. This in itself can create financial hardship for your family whom you had intended to benefit. It can also lead to your estate passing to those whom you had never intended to benefit and it can leave your family with many questions and uncomfortable uncertainties.
How do I make a will?
Professional advice when making a will is invaluable. Therefore the best place to start is with a solicitor. A solicitor can advise on all matters pertaining to your will and your estate such as executors, trust wills if you have minor children, gifts to charity, inheritance tax and estate planning. Begin at home by making a few notes of any questions or queries you may have and any specific wishes, together with who you intend to appoint as your executors and how you wish for your estate to be distributed.
A solicitor will know how to ensure that your will is written as per your wishes. The overall cost of making a will is more affordable than you may think and a properly drafted and executed will ensures that your family benefits both financially and emotionally on your death.
For some time you may have thought of making a will but have neglected to do so. Perhaps you have a will but it is out of date due to your marriage or births and deaths since your last will was made, maybe it's not tax efficient due to the value of your assets. The importance and advantages of making a will far outweigh the tragic and expensive consequences of failing to make a will. Don't be one of the statistics, act now and consult a solicitor.
James T. Johnston & Co are a firm of solicitors that have been in private practice for more than 50 years. Therese Johnston is a partner in this practice which can advise on all matters relating to wills and Estate Planning, Inheritance Tax Advice, Trusts, Administration of Estates, Deeds of Variation, Enduring Powers of Attorney and Office of Care and Protection Matters.
Will Aid – U105 (Belfast) from Just Talking on Vimeo.