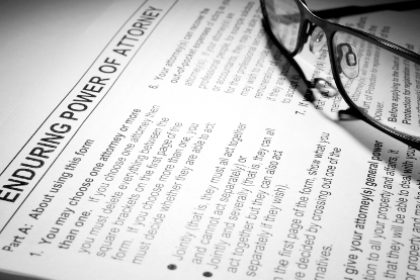 Have you ever thought what would happen if you were involved in a serious accident, became seriously ill or became unable to manage your day to day financial affairs?
We all assume that we will be physically and mentally capable of managing our affairs for the rest of our lives. We don't like to think about the possibility of becoming seriously ill, being unable to call to the bank, pay our bills, or indeed of the possibility that we may become mentally incapable of understanding and signing documents.
Whilst many of us will be fortunate to maintain our independence and manage our affairs for the rest of our lives, the unfortunate reality is that others won't, and the loss of capacity can be very hard for the individual concerned and also their family. It is therefore from a practical and a financial viewpoint that certain precautions should be put in place, whilst you are mentally and physically capable of so doing by planning for the future and making an Enduring Power of Attorney (EPA).
What is an EPA?
An EPA is a legal document by which you give authority to one or more persons (your Attorney(s)) to act on your behalf in relation to all of your property and financial affairs or limited to specified property or affairs etc. The EPA relates to the management of your property and financial affairs whilst you are alive and it ceases to operate on death.
Who do I appoint as my Attorneys?
You may appoint anyone but it is strongly advisable that the person or persons you appoint are completely trustworthy, as the EPA provides your attorney with a range of powers over your property and financial affairs (unless a restriction has been included in your EPA). Most individuals appoint family members or friends. As the attorney must also sign the EPA after you, it is important to ensure that you discuss and inform your attorneys of your express wishes and intentions.
How many Attorneys do I need?
The minimum requirement is one but many individuals appoint two or more, lest one is unable to act as and when the time arises for your EPA to be registered. Two or more attorneys can act independently of each other (jointly and severally) or together at all times (jointly). It is advisable to discuss the difference between these two circumstances with your Solicitor and thereafter make an informed choice.
What can my Attorney do under the EPA?
In simple terms the Attorneys step into your shoes and perform all functions that you would have undertaken on your own behalf in respect of your property and financial affairs. They cannot make a Will on your behalf or make any medical or personal decisions on your behalf and must act in your best interests at all times.
What are the implications of completing an EPA?
An EPA operates from the time it is countersigned by your attorneys. Therefore, if you do not want the EPA to commence immediately you must specifically state that it will only become effective when you become mentally incapable of managing your affairs in the future and the EPA is registered with the High Court.
What if I have no assets or my assets are held jointly?
Even if you do not own property or have any assets an EPA makes it easier for your pension, benefits and bank/post office accounts to be managed. Bank accounts are often frozen when a bank is concerned as to an individual's capacity and an EPA is not in place. If you jointly own your home with a spouse/partner and due to your mental capacity you are unable to understand and execute documents, no one has the authority to sign any documents on your behalf if your home ever had to be sold. An EPA avoids these situations occurring.
Can I revoke an EPA if I change my mind?
Absolutely, provided such revocation takes place whilst you are mentally capable and the EPA has not been utilised. If, however the EPA is registered with the Court, it may only be revoked by an order of the High court.
Is an EPA expensive?
In terms of legal costs, they are relatively reasonable and the paperwork is not complicated compared to the cost of losing your capacity without having made an EPA. When such a situation arises a relative or friend will have to apply to the High Court for an appointment as a Controller. This is a time-consuming process and much more expensive that an EPA. To that end EPA's are highly recommended as they avoid the additional expense, time and inconvenience of a Controllership application.
Therese Johnston is a Partner in James T Johnston & Co Solicitors and can advise on all matters relating to an EPA, Controllership Applications, Wills and Estate Planning, Inheritance Tax Advice, Administration of Estates and all Property Matters. Should you require advice or assistance please call 028 90246091 or alternatively email – info@johnstonsolicitors.com