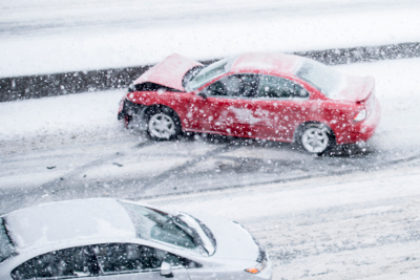 Gerard Ward, Solicitor explains what steps you should take if you are involved in a Road Traffic Accident over the winter season.
During winter the number of road traffic accidents on our roads rises significantly, as the days become shorter and the weather deteriorates. Winter conditions provide drivers with extra challenges due to more difficult driving conditions on the roads. Ice and snow lead to hazardous roads, and rain and fog create reduced vision which will cause even the most experienced drivers problems. These conditions inevitably lead to an increase in collisions and accidents on our roads.
Road Safety in the Winter
Making sure your car is properly maintained and ready for the elements is a step every driver should take. Check your tyre pressure and the tread depth of your tyres and replace them when they are worn, ensure windscreen washer solvent is used, oil is checked and power steering, brakes, radiator and battery fluids should also be filled to recommended levels. To reduce the likelihood of an accident, it is also important that you adapt your driving to the weather conditions and set off earlier on journeys where conditions dictate. Road Traffic Accidents can involve cars, bicycles, motorbikes and pedestrians so take steps to ensure you are safe and visible if cycling or walking and if you're in a car, drive safely and look out for slower and less visible users such as cyclists, motorbikes and pedestrians.
What to do if you are involved in an accident
It is of paramount importance if an accident does occur regardless of whether you are the driver, passenger or pedestrian, that you take note of the other driver's details to include name, car registration, make of car and insurance details. It may be an offence for a driver who is involved in an accident with you, not to provide insurance details or simply leave the scene of an accident. You should also take details of any potential witnesses, a note of road/weather conditions and photographs of the damage to the vehicles or accident scene.
In taking these details you will provide your solicitor with a much stronger platform on which to prove negligence on your behalf and achieve the best possible results for you. If you sustain injury or loss you may be able to make a personal injury claim if it can be proven that the accident was caused through another's negligence.
How can a Solicitor assist?
It is important that you contact a solicitor as soon as possible after the accident in order to seek professional legal advice. This will allow your solicitor the opportunity to assess your case and provide you with options on the best way to proceed. Crucially, it will also allow them to take a statement of the events at a time when your recollection will be at its best.
If your accident involves an uninsured or untraced driver you must immediately contact the police to allow your solicitor to make a claim through the Motor Insurer's Bureau on your behalf. Upon contacting or recording an incident with the Police always obtain a PSNI reference number.
If an accident is of a serious nature, immediate medical attention should be sought at the scene and the Police should be called to allow them to investigate any potential Dangerous or Careless driving offences. Following an accident, it is always advisable to seek medical attention as soon as possible to allow a Doctor to assess and detail all injuries sustained by you on your medical records and provide the appropriate medical advice and treatment.
If you or a family member or friend has been involved in a road traffic accident either as the driver, passenger, pedestrian or cyclist within the last three years which was not your fault and resulted in an injury then a claim for personal injury compensation may be possible. Our team of Solicitors will ensure that you receive the best advice and representation regardless of whether you have suffered a minor or serious injury. For further information or for a free no obligation consultation please contact (028) 90246091 or info@johnstonsolicitors.com